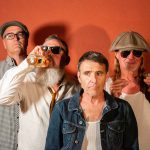 Doug Cox from the Hangmen has a kind of country-ish singer songwqriter band now, and damn is this kind of blowing away the competition ( though I'm not sure who that would be ), even including some of his own fine work in the past. When he compares love to a "Slaughterhouse" and sings about going out to the desert to get clean from heroin with a lover , only to have to high-tail it back and score before they loose their minds, it doesn't sound exploitative or hyperbolic as it might in the hands of a more Hollywood song writer like Sheryl Crow. It feel like something Cox has the grit of in his blood, and somehow , it'll feel personal for you, too, even if the closest you've ever been to been heroin in the desert is stomping out a cigarette in the sand.
-D.M. Collins, L.A. Record
Tramp for the Lord is a new band with former Hangmen bassist Doug Cox crooning moping, loping country-rock ballads in a world-weary growl as Gun Club slide guitar and spaghetti Western canyons open up behind him.—Falling James, L A Weekly
Doug Cox, singer and guitarist with Tramp for the Lord, used to play bass with headliners The Hangmen, so there's a sense of warmth and the completion of a full circle about them opening for his old buds at the Redwood on Friday night.
But it very quickly because apparent that this isn't simply a case of The Hangmen throwing Cox a bone. This is, after all, the band that we named "Best Folk/Roots Group" in our Best of L.A. Music issue earlier in the year. Back then, our own Falling James wrote, "Despite Cox's hard-rocking past, Tramp for the Lord is a more restrained, if deranged, kind of country-folk band."
That all adds up. Cox mentioned more than once here that the part of downtown L.A. the Redwood is situation in is the same neighborhood where he used too score heroin. His demeanor, his voice and his songs also heavily hint that he has lived a tough, perhaps seedy life at certain points. One hopes he's all better now, but the cracked quality that the substances and experiences have left Cox with are not unattractive. His music is rich, dark, husky and syrupy, in all the good ways.
-Brett Callwood, LA WEEKLY review of the HANGMEN show at the Redwood Friday August 23rd 2019
Best Folk/Roots Group : May 17th 2019
Back in the late 1980s, Doug Cox went by the nom de plume Johnny Holiday and played bass in the hard-living original lineup of The Hangmen. After dropping out of the music scene for awhile, he focused on his sodden, darkly engrossing fine-art paintings. He eventually resurfaced again, playing in Cesar Padilla's White and touring with Kid Congo & the Pink Monkey Birds, before forming Tramp for the Lord in 2012. Despite Cox's hard-rocking past, Tramp for the Lord is a more restrained, if deranged, kind of country-folk band. "Take me to the slaughterhouse of love," he begs with a lazy drawl to a loping acoustic guitar. There are very occasional traces of The Gun Club's Jeffrey Lee Pierce and Nikki Sudden in Cox's mournfully haggard delivery. Tramp for the Lord are anything but roots-rock purists — or, for that matter, devout Jesus freaks — but they cobble together some crudely affecting songs that fall uneasily between the cracks of country, folk and punk. —Falling James LA Weekly